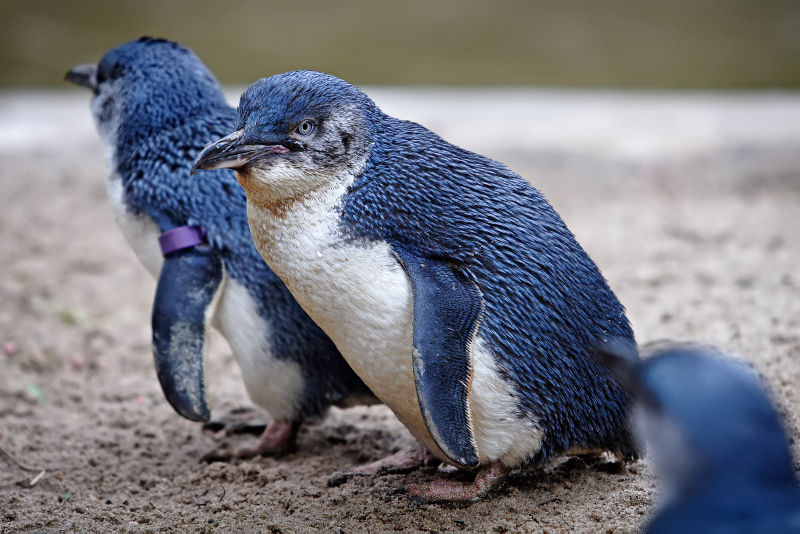 While in Christchurch, a great activity that the whole family will enjoy is the International Antarctic Centre located across from the Airport and by the Antartic campus where many missions south are actually organized.
We started with the Blue Penguin Feeding which takes place several times a day. They eat small fish whole and have quite an enthusiasm to eat. The record for one penguin is 72 fish. It was breeding season so not many came out to eat except for the young and the very old which was fun to watch. The others were in their nests working up an appetite. You can see into the nests and great viewing from the beach and underwater.
Then it was off to the snow room for a play and to get snowed on before the arctic storm where you experience what a storm in Antarctica fees like in the summer. They loan you coats and over boots which you will need as the temperatures drop to -35 below zero Celsius. It was very windy, cold and lifelike. We only lasted a few minutes in the storm room even though there is an igloo to shelter you in. I'm no Bear Grylls but it was cool.
The 4D movie "Ice Voyage" was great. A 3D movie with movement and some sea spray to give you that 4D effect. The movie shows some amazing scenery of the Antarctic and was filmed by Emmy award winner Mike Single.
There are several other movies in the Arctic Gallery along with exhibits and interactive displays of what life is like in the arctic. I particularly liked the whale display and to see the tents and equipment they use to survive in the harsh environment.
The gift shop was fun to have a nose around in with lots of cute stuffed animals for the little ones. We ate in the café which was nice and also reasonably priced. This would be a great place for a child's birthday party.